My top 4 Special Diets restaurants in Antibes
Socca Bar
Another family affair: the chef reopen recently this place that his father created years ago!
One of the typical & local recipe that you can only find 50kms around here : Socca.
Made of chick pea flower, olive oil, water and salt. This simple recipe is all in the way of cooking it. In Antibes, we tend to made it a bit thicker than in Nice and Cannes, making it crunchy on the outside an soft in the middle.
Plenty of locals are saying that one of the best, if not the best socca they have eaten!
By the way, this recipe is gluten and dairy free, which is pretty unusual in France right.
Try the socca burger, yumm!! Take-away also available.
A piece of socca for 3,5euros and other recipes under 15euros.
Address: 1 Rue James Close, 06600 Antibes
Opening hours: Thursday to Sunday from 11-2pm & 6-10pm.
                            Monday to Wednesday from 6-10pm.
Healthy Lounge by M
This new place is all about organic products.
Gluten free, dairy free, vegetarian and vegan options.
Breakfast, lunch and brunch options available.
Located in one of the most famous street of the old town.
Price is reasonnable and fair.
Address: 18 Rue James Close – 06600 Antibes
Opening hours: Monday to Saturday from 9am-5pm.
                            Sunday from 10am-4pm. Closed on Tuesdays. (check on website)
Website: www.healthyloungebym.fr/
The Green Burger Factory
Just next to the Socca Bar, this new place is another good address for special diets. Vegetarian, vegan, gluten free…
Everything is home-mae and organic. They are also offering take-away or deliveries with UberEats.
Burgers are amazing so as the salads and bowls.

Price is very reasonnable from 10 to 15euros & menus around 15-17euros.
Address: 35 Rue des Revennes, 06600 Antibes
Opening hours: Every day from 12-2pm & 7-9pm.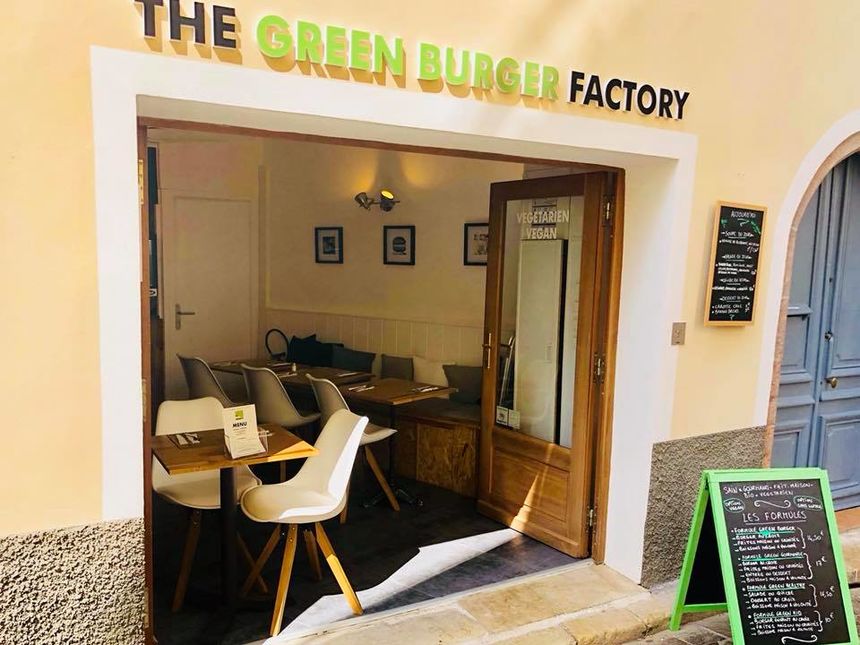 Graze Cafe
Another vegetarian/vegan destination in Antibes.
A wonderful juice bar combined with a very tasty plant-based only cuisine.
Ivy is a chef dedicated to these types of diets and she's doing a wonderful job.

Price is very reasonnable. Nothing above 17euros.
Address: 20 Rue des Casemates, 06600 Antibes, France
Opening hours: Tuesday to Sunday from 12pm to 2:30pm.
Website: grazecafe.fr