My top 5 restaurants for dinner in Antibes
L'Arazur
A very good address open only at night, you won't be disappointed. A French traditional cuisine for a mid-range price menu. In a little street, this place is a bit hidden but it's really worth it!
The Chef gain a lot of experience while on the side of Mauro Colagreco, Chef of the Mirazur in Menton which has just been rated best resturant of the WORLD! 
Price for main dishes around 30euros.
Address: 8 Rue des Palmiers, 06600 Antibes
Opening hours: everyday except Monday from 7-10pm.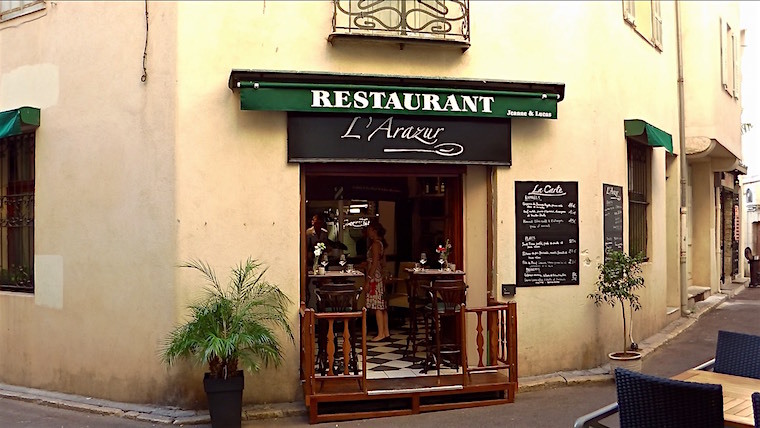 La Cafetière Fêlée
Once again, my saying got all its sense here: find a little restaurant in a narrow street and you will have a wonderful experience! Well, la Cafetiere Felee won't disappoint!
You'll enjoy here a mix of French and Asian cuisine. Unbelievable mixed flavors for a top dinner!
Good food, good service, a place to discover.
Price for lunch menus 25 to 29 euros and 45euros at night.
Address: 18 Rue du Marc, 06600 Antibes
Opening hours: Wednesday to Saturday from 12-1:30pm & 7:30-10pm
                             Tuesday from 7:30-10pm.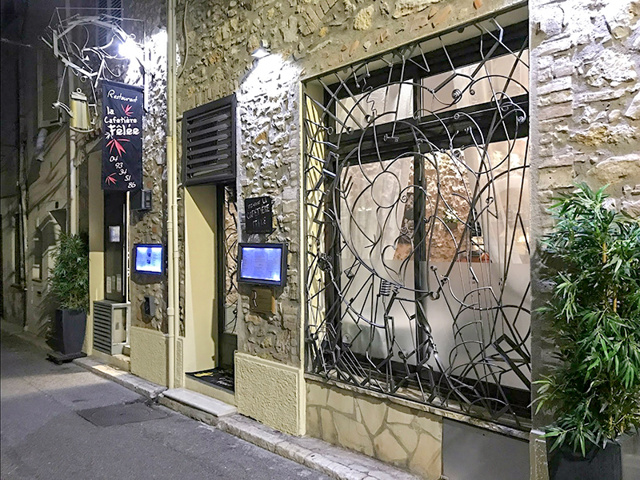 Chez Lulu
A very unique experience with an unusual concept.
There's a unique menu where you get to try a mix of 7 local/typical French starters, then you have 1 "all you can eat" main and finish with 7 desserts to pick from!
If you are not full after this, you obviously not a human!
Very friendly atmosphere inside with very long tables to share, always a good way to connect with new people and just a few tables outside.

Unique price for the all menu around 26euros.
Address: 5 Rue Frédéric Isnard, 06600 Antibes
Opening hours: Tuesday to Saturday from 7-11pm.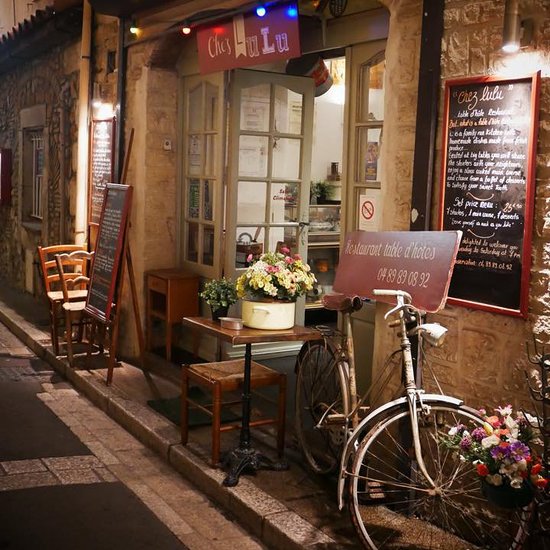 La Taille de Guêpe
Another very good place for dinner in the old town.
A cuisine with eatable flowers which give a gorgeous look to nearly every meal.
Lots of flavors and taste. Another different experience.
Fair price for the quality. Highly recommend.

Price is in the average with the menu starting at 26euros.
Address: 24 Rue de Fersen, 06600 Antibes
Opening hours: Tuesday to Saturday 12-2pm & 7-10pm.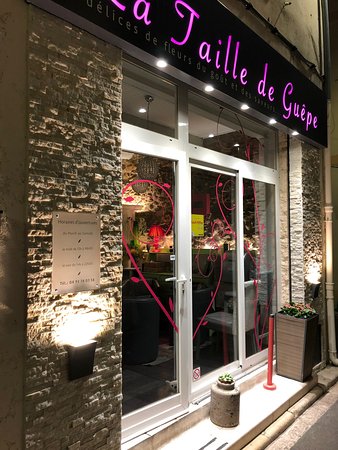 Le P'tit Cageot
This is a semi-gastronomic restaurant with just a few tables.
I categorized them as an option because they are always booked out. So you need to book like a week in advance.
High quality food and a very friendly team. Great place facing the Chapelle Saint Bernardin!

Menu prices around 25euros for lunch an 35 for dinner.
Address: 5 Rue du Dr Rostan, 06600 Antibes
Opening hours: Tuesday to Saturday 12-2pm & 7-10pm.